The Rockbridge Bloomery
Furnace Plans
---
Furnace #1


This was our first attempt at a bloomery furnace, that we used for smelts 1 - 11. We never managed to make any decent iron in it, but we made all our best mistakes here. Worst design flaws- tapping the slag from the bottom, and having to dig the finished contents out the top. 12" diameter, 26" shaft height above tuyere. We started with iron tuyeres, went through ceramic tuyeres, and finished with a water cooled tuyere, which we have continued to use.
Furnace #2
See plan full size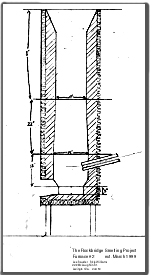 Armed with a little experience, and a little more historical knowledge, we designed this furnace in stacked modules so we could experiment with different shaft heights and tuyere heights. An outer steel shell serves as the outer form for the insulation and high temperature castable refractory interior. We increased our diameter slightly to 14". In our very first smelt in this furnace, we really cranked up the air in an attempt to make cast iron by the Chinese model. Instead we got a 40 lb. bloom. This bloom was used to create "Nyamakala I". From this smelt on, we have always produced forgeable iron in decent quantity.

This furnace as drawn is referred to as 'tall shaft'. When the upper 3' section is removed the furnace is referred to as 'low shaft'.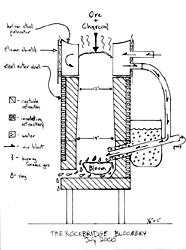 By smelt #20, furnace #2 had evolved into this lean mean iron-makin' machine. The the mass of the tall shaft in furnace #2 changed temperature only slowly which allowed us to learn how to control the burn rate. But once we had learned what temperatures were needed and how to adjust the air blast, we found the tall shaft to be of no particular advantage.Adding a hollow preheater section on top of the 'low shaft' furnace allows for a bit of saving in charcoal. Smelts #20 to #27 all utilised this set-up.